Webbseminarium om ACUGEN CoQ10 Nanoemulsion
Vi på Vital i samarbete med Dr. Joseph Cannillo på Forza Vitale har planerat ett webbseminarium "webinar" den 20 juli. Dr. Canillo kommer att prata om ACUGEN CoQ10 Nanoemulsion, en vattenlösligt mikroemulsion Q10 med 98% absorption/biotillgänglighet.
OBS. Webbseminarium är på engelska!
Webinar
Coenzyme Q10
Microemulsion  Supplementation
in Clinical Practice
Friday 20th July
@3:00 pm (GMT+2, Rome)
Lecturer: Dr. Joseph Cannillo
Scientific Director of Forza Vitale Laboratories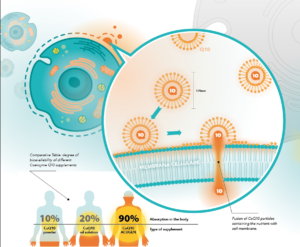 Superior bioavailability for an effective antioxidant action and an integral recharging of energy to all vital organs of the body. ACUGEN® is a Coenzyme Q10 water-soluble microemulsion supplement, result of innovative biological and health research techniques. The advantage of ACUGEN® is to overcome the limits of other formulations with poor nutrient absorption in the body (eg soft gel powders or pearls).